Busan Contents Market 2021
BCM2021
PRE 2021 K-CONTENT REACTION CONTEST
We are looking for reaction (dubbing, subtitles, reaction, voice acting, review) works for video based on K-CONTENT
* We recommend K-CONTENT original video provided by BCM, which has not been released before. (Request Inquiry : marketing1@ibcm.tv)
* If there are copyright problem, video will be deleted (Refer to Rules13)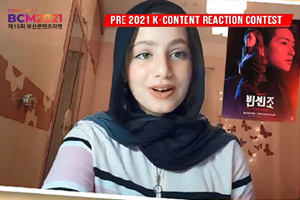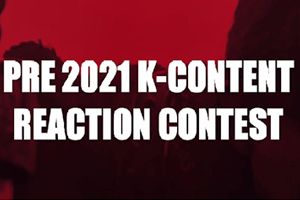 Event Overview
| | |
| --- | --- |
| Exhibition | PRE 2021 K-CONTENT REACTION CONTEST |
| Purpose | K-CONTENT fandom expansion |
| Schedule | |
No.
ITEM
Date
Venue
Theme
No.
ITEM
PERIOD
LOCATION
NOTE
1
Participation
OCT.16TH ~ NOV.9th
BCM WEB SITE

Close at KST 17:00 on NOV 09th

Create a reaction video with content provided BCM or any K-content. Upload video on your YouTube channel. Register the link of your video and fill an application form on the web site.

No restrictions on participation qualification. (Nationality, age, gender)

2
Selection of WINNERS
NOV.10th
BCM WEB SITE

Winners are selected based on the number of likes of the submitted video in order of 1st to 3rd place, and selected after inspection according to the internal criteria.

3
Awards ceremony
NOV. 10th~12th
BCM 2021
3D CYBERSPACE

Awards ceremony on NOV.12 on BCM 2021 3D virtual space
- Award for 3 videos in 6 languages section.

Screening of K-CONTENT reaction award-winning videos and all videos on NOV 10th-12th
※ Times in the above schedule are based on KOREAN STANDARD TIME.
※ The above schedule is subject to change depending on the circumstance of BCM.
Participants
Creators who run YouTube channel based on K-CONTENT.
How to
Create a reaction video. Upload it on your YouTube channel. Register the link and fill an application form in the website
Awards
3 videos in 6 languages section total 18 videos.
Award certification and prize money (including tax, commission, etc) 400,000 KRW for each winning video.
Languages
English, Japanese, Arabic, Spanish, Hindi, Other languages
Organizer
Busan Contents Market Organizing Committee
Sponsored by
Ministry of Culture, Sports and Tourism/ Busan Metropolitan City.
CONTEST RULES
Rules
1. Applicants can apply from two or more languages. However, only one language(including subtitles) and one genre can be used for one video
Ex) If the voice is in English and the subtitle is in Spanish, applying in duplicate is not allowed.
2. Applicants are not subject to any restrictions. (Residence, nationality, age, gender)
3. The entrant's ID is an e-mail account owned by the entrant personally.
4. The winning works will be selected in the order of high number of likes by language and prioritized in order of registration.
5. Award criteria is in the order of high number of likes, but videos with a deviation of less than 10% are decided according to the internal criteria.
6. The number of likes is based on the YouTube channel\'s video, and it should be open.
7. BCM will select the final winning works through the inspection by the inspection members.
8. Registered videos will be open to public immediately after registration, and the ideas of already registered videos could be referenced, and the registrant deemed to have agreed to this.
9. The original K-CONTENT provided by the BCM cannot be used except for participation in the contest.
10. If there is a risk of maliciously disparaging the original K-CONTENT provided by BCM or damaging the original image, civil and criminal punishment is possible.
11. Even if a video has been selected as an award-winning work, the award could be canceled if it does not meet the judging criteria.
12. Video provided for this contest requires prior inspection, and videos that do not pass the preliminary inspection can be deleted.
13. If the organizer requests that the submitted video be deleted due to copyright infringement, the applicant comply with it

CONTEST INSPECTION
Inspection
1. Inspection members are selected by BCM
2. Inspection Criteria
- Discrimination about politics, region, race or gender is prohibited.
- Inappropriate expressions (profanity, etc), comments about race or gender are prohibited.
- Judgement on the above two matters is decided by the BCM
- Entries with prohibited criteria will be deleted without notice by BCM
Inquiry
| | |
| --- | --- |
| Director | Busan Contents Market organizing committee _ marketing staff (Hyojin Han) |
| Contact | marketing1@ibcm.tv / 02-786-6985 |